When you find useful journal articles within the Online Library databases you will need to make sure that you save these results.
Reference Management Software will help you to:
Export your references from the Online Library databases.
Organise your references into categories.
Manually enter bibliographic details from print resources.
Export your references into your completed essay in the correct citation style.
Summon
You can use Summon to find out how to correctly cite an article. In the Summon search results, you will see a folder icon to the right of the article title.
After you have saved an item, click on the folder icon in the top right corner of the page to see your saved items.
From the drop-down menu, select which citation format you are using. It will then tell you how to cite that article in that format.
Please note that this is a temporary folder, and it will empty when you close your browser. To save references permanently, you need to create a RefWorks account.
RefWorks
RefWorks is reference management software which University of London distance learning students are entitled free access to. To create a RefWorks account, click on the Menu button (the three horizontal lines) in the top right corner of Summon, then click RefWorks Log In.
Then click No account? Sign up here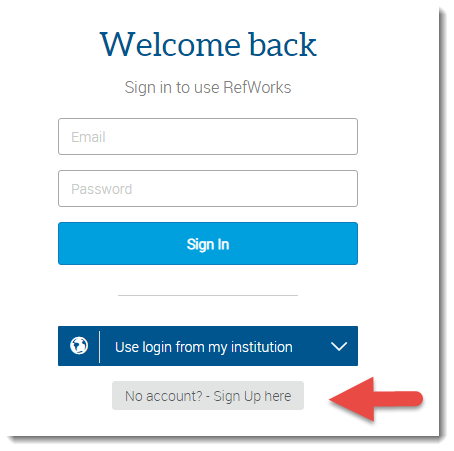 Then enter your University of London email address (@student.london.ac.uk).
If you are given the error 'Oh no your institution was not recognised', please open a different internet browser and try again. Make sure that you go to RefWorks from the Summon search results (you will not be able to create an account if you go directly to the RefWorks website).
Once you have a RefWorks account, when you click on the folder icon next to an article in the Summon search results, it will appear in RefWorks. But remember to check that you are logged into RefWorks before you do this, because otherwise the article will be saved in Summon's temporary folder.
You can also save items in RefWorks directly from databases. You will often see an 'Export' or 'Cite' button next to the text of an article. For details on how to do this in a specific database, take a look at the Quick Start Guide for that database.
Videos on the RefWorks YouTube channel explain how to use RefWorks. If you can't watch the videos, please contact us. 
Other Reference Management Software
There are other free reference management software packages which you may want to use to generate citations and bibliographies, organise your research, and collaborate with others. Mendeley offers 1 GB free storage space for your research papers. Download Mendeley desktop version and the free iphone / ipad app and sync your research to access it on the move.
Now that you have organised your references, the next section will look at how to cite them in your work.